Treasure Trooper Review – Scam or Legit?
I have been part of treasure trooper for around a year now and it defiantly has it's pros and cons just like any other money making website would. One main thing I really like about Treasure Trooper is that is been around for a long time and still running healthier than ever. I actually been seeing more and more of this site all around the internet every day. So I figured I would make this review for people to see if they would be interested in making some extra money with Treasure Troopers before they sign up and get to know more what it is all about. I would say it's one of the better site I have found to make money online without spending money and going through all that hassle.
Let's see what Treasure Trooper has to offer…
You can complete very simple offers they have listed for you that take very little time for money. Doing this on a daily consistent basis along with other offers they have such as treasure hunts and much more you can make a pretty penny. I have been using site similar to Treasure Troopers such as Cashcrate.com and InboxDollars.com and with these three combined and getting referrals to sign up under me I been making a few hundred extra dollars each month.
Click Here For More Information About TreasureTrooper.com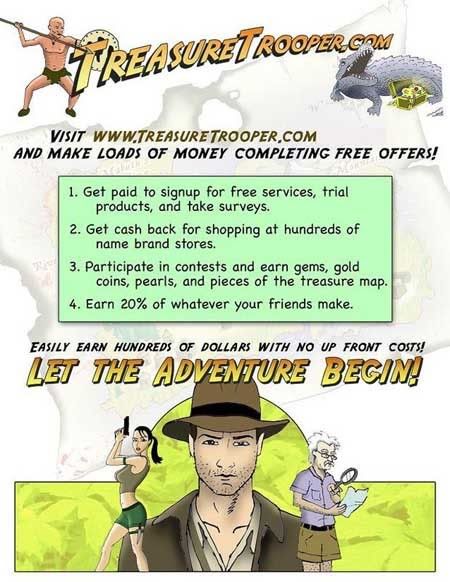 The key to sites like this is doing a few a offers each day, but sharing your referral link to get people under you and make 20% of what they make. On top of that they will pay you a smaller percentage of who your referrals refer. I complete offers often but don't spend much time doing so. I rather make a free blog with blogger.com and try to get friends, family or even random people who are looking to make some extra money to sign up under me. 
This is how the referral system works below…